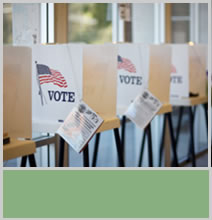 Our Work - Elections
In addition to nearly 30 years of experience in developing and conducting survey research, the principals at EPIC·MRA - Bernie Porn and John Cavanagh - both have served in state government and have extensive experience in helping to shape winning election campaigns at the local, state and federal levels. Their expertise extends beyond survey research and database development and includes advising candidates and ballot committees about the "nuts and bolts" associated with running a successful campaign, including: message development, print and media advertising, and Election Day GOTV efforts.
EPIC·MRA offers several services to assist you in developing a solid foundation for your ballot proposal or candidate election campaign; including: survey research, database development and database products.
We welcome your inquires about how EPIC·MRA might assist you with your candidate or ballot issue campaign.
Please call us at 517/ 886-0860, or email us at either Bernie@epicmra.com or John@epicmra.com to arrange a confidential consultation.